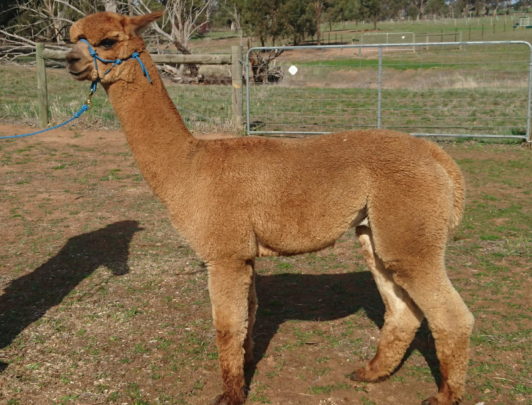 Baringhup Vortex
Solid Dark Fawn
IAR: 198063
Date of Birth: 1 April 2014
Sire: Millduck Horatio HB
Dam: Camelot Merlin's Trick
Fleece Statistics:
2014: Mic: 18.1 SD: 4.0 CRV: 46.4 CF: 99.6%
2015: Mic: 19.4 SD: 3.8 CRV: 44.9 CF: 99.2%
Baringhup Vortex is a well grown certified stud male. He started working this autumn, with each of his three females spitting after their first mating. Vortex has robust conformation and a great presence with a gentle temperament. His fleece is well structured, dense and with a high frequency crimp style carrying through to his apron. His sire, Millduck Horatio HB, is a multi broad ribbon winner, and his dark brown dam, Camelot Merlin's Trick (sired by WV Firedragon), has won many broad ribbons. Trick's sixth fleece stats are 21.3 mic, SD 4.3 and CRV 42.4. The only reason Vortex is being made available for sale is that his genetics are too close to the majority of our herd. For Vortex's show performance see our Show Results page.
Price: $4,000 (no GST applicable)